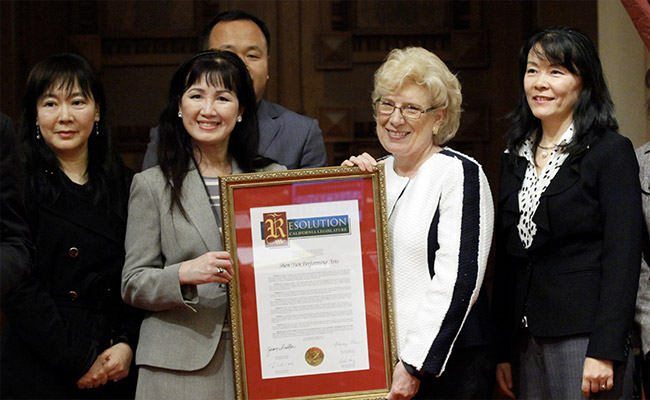 Elected Officials Commemorate Shen Yun's Anniversary Tour
United States elected officials have been officially marking Shen Yun's tenth anniversary.
In California, State Senator Jean Fuller honored Shen Yun with a resolution celebrating the company's tenth anniversary. On Jan. 10, the same day as Shen Yun's opening night in California's capital of Sacramento, she presented local Shen Yun promoters with a joint resolution signed by herself, Senator Richard Pan, Assembly Member Phillip Chen and Assembly Member Vince Fong. Senator Fuller commended Shen Yun for sharing traditional Chinese culture with communities in California over the past 10 years.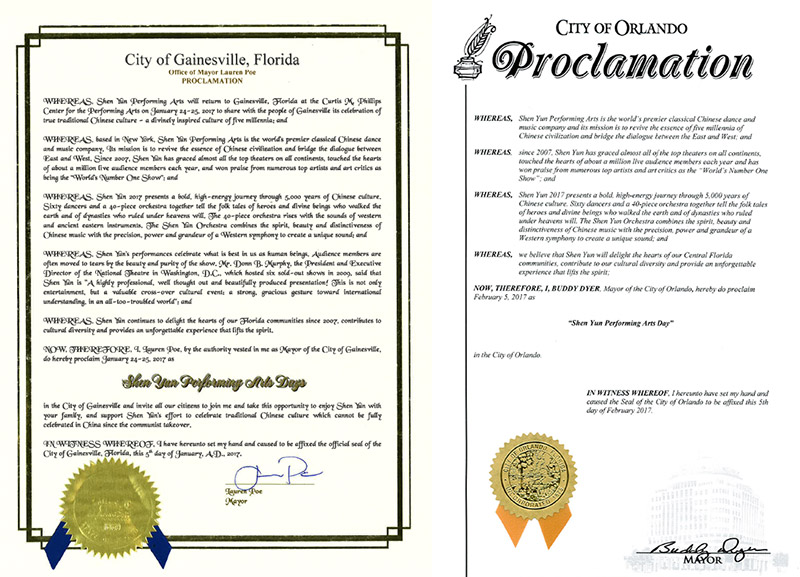 The resolution joins a growing pool of well wishes from elected officials from all over California for Shen Yun's 2017 tour. In December, 70 government offices welcomed Shen Yun to the Bay Area for its Northern California leg of tour.
Recent years have witnessed an explosion in Shen Yun's popularity in California. Back in 2007, when Shen Yun was on its first world tour, the only California stops were Los Angeles and San Francisco. Over the years, more cities and performances have gradually been added, as tickets sell out weeks in advance. This year, the California tour has expanded to 12 cities and 47 performances.
Across the country, the mayor of the Gainesville, Florida presented a proclamation to local residents who helped bring Shen Yun performances to their community. The proclamation designates the Gainesville show dates (Jan. 24 and 25) as Shen Yun Performing Arts Days, honoring Shen Yun's commitment to reviving traditional Chinese culture and sharing its beauty with communities worldwide.
A similar proclamation was issued ahead of Shen Yun's February performances in Orlando, Florida.
Shen Yun's touring groups now head to Philadelphia and other cities along the East Coast, St. Louis and the Midwest, Canada's Toronto, and several cities in Taiwan.