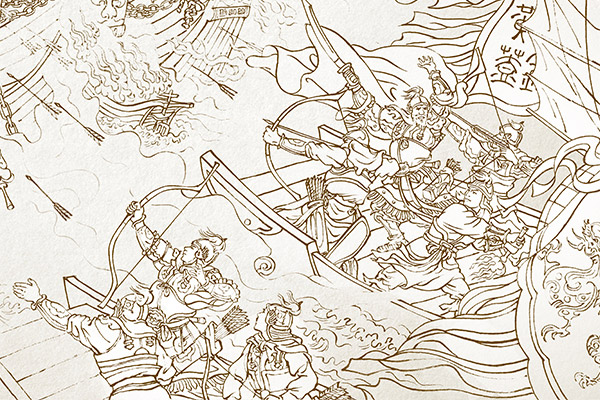 The Inspiriting Battle of Red Cliff
Carved into the ancient rock face along the Yangtze River, just southwest of the city of Wuhan, are the words "Red Cliff" (赤壁 chì bì). While the characters themselves are said to be a thousand years old, the battle they commemorate is older still.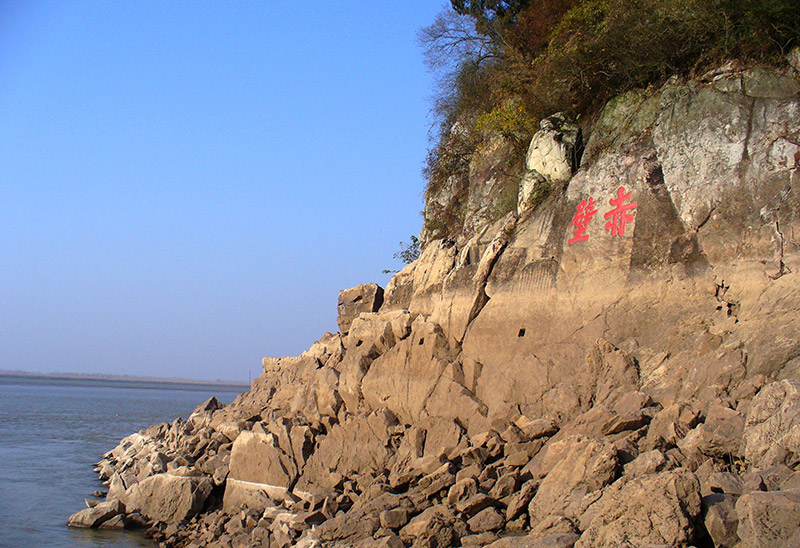 At the fall of the Han Dynasty (206 B.C.E.–220 C.E.), armies of mythic proportions gathered here as China's once-powerful empire splintered into warring kingdoms. The cunning military leader Cao Cao led a force of hundreds of thousands, but it was the greatly outnumbered underdog Sun Quan and his ally Liu Bei who won the decisive battle. While their victory did not decide the war, it did create a stable balance of power between the major players of the Three Kingdoms period, and Cao Cao would never truly regain such singular dominance.
The descent of the Han Dynasty into the Three Kingdoms period meant a temporary end to a united China. It could have also meant the end of the Chinese empire, if not for the fact that those fighting were all, in their own way, fighting to preserve the idea of China as "The Middle Kingdom."
Because of this, the 5,000 years of China that we speak of today is not so much a continuation of central government or a seat of power as it is the endurance of culture, customs, and ideals.
Fictionalized in the classic Chinese novel Romance of the Three Kingdoms, the Battle of Red Cliff has captured the imagination of the Chinese people for generations upon generations. It is associated with great tragedy, but also with stratagem, valor, and the ideals of Chinese patriotism.
Shen Yun 2017's classical Chinese dance Red Cliff glimpses this momentous battle through the eyes of a soldier. This soldier is not an ancient warrior, but one from the 1930s. A general from Chiang Kai-Shek's Nationalist Kuomintang forces, he is separated from his troops and stumbles upon the site of the "Red Cliff" engraving along the Yangtze River. Tired, wounded, and alone, he rests against the riverbank and dreams himself back into the heat of a battle that took place some 1,700 years before. Watching the legendary scene unfold, he is rejuvenated by the courage of warriors past. And upon waking, he decides that his idea of China—the idea that unites him with his ancestors that stood on that very ground—is one worth fighting for.