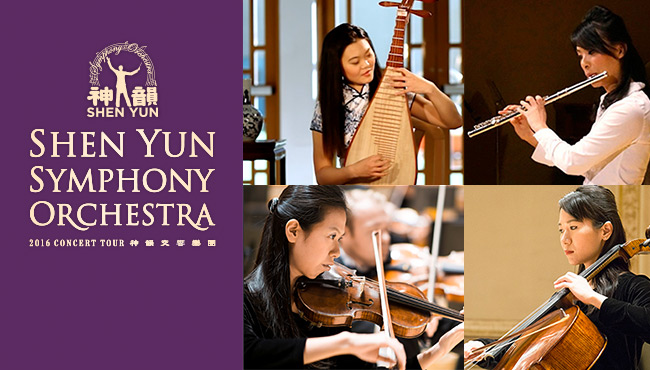 Interview: Taiwanese Musicians on Touring Formosa
SHEN YUN SYMPHONY ORCHESTRA PREMIERES IN JAPAN AND TAIWAN
This month, Shen Yun Symphony Orchestra makes its first foray into the concert halls of East Asia. This is Symphony Orchestra's fifth season, but the first to travel overseas.
The season kicks off Sept. 15 with two concerts in Tokyo, Japan, and then continues with 16 concerts in 12 cities across Taiwan. Next month, Shen Yun returns to familiar stateside venues like Carnegie Hall in New York, continuing to Boston, Toronto, Washington, D.C., and Chicago.
Shen Yun's performers come from all over the world, and many of them hail from Taiwan, so this year's tour is somewhat of a homecoming for them. On the eve of the first performance, the atmosphere at each rehearsal brims with anticipation. Between these final rehearsals, we chatted with a few musicians from the sweet-potato-shaped island also known as Formosa.
I-Chen Huang, principal cellist, began her music studies in Taiwan before entering a music conservatory in France. On violin, Hui-Chih Tsai also studied abroad in Paris after training in Taiwan. Chia-Jung Lee pursued graduate studies in the United States before joining Shen Yun as principal flautist. Miao-Tzu Chiu, from Taipei, plays the traditional Chinese pipa. Here's what they had to say.
Q: You've performed in Taiwan while accompanying Shen Yun's flagship dance production. How is Shen Yun received there?
Tsai: It was a great success, and that gives me lots of confidence because the people there can be really picky when it comes to Chinese culture. After all, it's their own culture! Expectations are even higher, which makes it even more exciting to perform there.
Huang: I think it's important for Shen Yun to share our mission of preserving traditions with people in Taiwan—after all, they've historically played a tremendous role in protecting Chinese traditions.
In the middle of the last century, when China was undergoing the turmoil of communist revolution, people fled from mainland China to the nearby island of Taiwan. The artifacts and traditions they took with them survived, while much of the traditional culture in the mainland was deliberately destroyed by the communists, especially during the Cultural Revolution in the 60s and 70s. Even today, Taiwanese still write using the traditional Chinese characters instead of the simplified script that is used in mainland China.
I think the Taiwanese people have a lot to be proud of, and I'm glad to share a part of Chinese culture with them.
Q: How does the music of Shen Yun compare with Chinese music that people are already familiar with?
Huang: Traditional Chinese music has a strong presence in Taiwan. That being said, large-scale concerts are limited to Chinese instrument orchestras. Our music combines traditional Chinese music with the large scale Western orchestration that most would associate with classical music like Brahms or Beethoven. It's not what people expect, and there are endless layers to explore and discover.
Chiu: I am always captivated by the subtleties that result from blending these two musical traditions. You have classical composition techniques that use strong, structured harmonic progressions, but the flavors and styles are unmistakably Chinese.
People of East Asian backgrounds will instantly recognize some of our music's basic traits, and they'll also be spellbound by the new ideas. My personal favorites are the unique arrangements; this year we even have a pairing of pipa with trumpet!
Q: How else would you characterize Shen Yun's music?
Lee: Growing up in Taiwan, my initial impression of Chinese music came from ceremonial music at the temple near my house. And I don't mean church hymns or peaceful meditation music. I mean drums and cymbals and loud, blaring instruments. Here with Shen Yun, I learned that it's possible to take the beautiful parts of one culture and magnify them using techniques borrowed from another culture to create a truly synergistic effect.
Tsai: Shen Yun combines the sounds of the erhu, pipa, or Chinese percussion instruments with Western symphonic coloring, and in so doing creates something totally original. It becomes something that appeals to people everywhere. It's different from pure Chinese music, and different from pure Western styles, too.
Q: Last question—what do you hope the audience will take away from the concert?
Huang: I hope they will leave with deeper appreciation of traditional Chinese culture.
Lee: I'd like to spark people's imagination. If we can evoke even just two minutes of true mental peace, or perhaps a feeling of soaring of the heavens, then we've done our job!