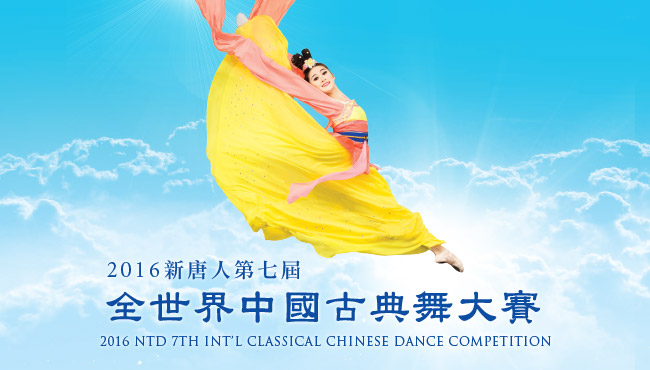 Dance Competition 101
New Tang Dynasty Television's International Classical Chinese Dance Competition is one of the most exciting events on our calendar this fall. For three action-packed days, Shen Yun dancers will be in New York City among artists who hail from all over the world—gathered together to present a breath-taking exposition of classical Chinese dance.
An international competition is the perfect platform to showcase the beauty and power of authentic classical Chinese dance—a complex art form both ancient and new. It is ancient, because it is rooted in 5,000 years of divinely inspired culture. While it is new, because, in its purest form, classical Chinese dance has only been introduced to the Western world at large throughout the past decade by Shen Yun's global tour production.
For the dancers, this contest is an excellent opportunity to challenge themselves to new heights; not to mention gain solo stage experience, interact with artists from around the globe, and receive a fresh shot of motivation and adrenaline, too.
What Will You See?
Dispel any notions of televised pop dance-offs. It's not Olympic gymnastics either… although do expect plenty of fantastic tumbling and aerial flipping, which have millennia-long history in Chinese dance.
In a classical Chinese dance competition, each contestant prepares a short dance piece of his or her choice (which may be a solo, duet, or trio), and a required combination comprising specified movements and techniques.
The individual selection is often inspired by a character or episode from Chinese history, classical literature, or ancient mythology. Popular choices in past competitions include the loyal Song Dynasty general Yue Fei, heroines Mulan and Mu Guiying, goddess of the moon Chang'e, illustrious emperors Kangxi and Tang Taizong, and the "Immortal Poet" Li Bai. Some contestants choose to portray their personas through special props or costumes such as fans, long "water sleeves," spears, capes, and more.
For the required combination, there are separate specifications for the male and female divisions, as well as junior and senior divisions. Dozens of required movements are grouped into five categories:
Within these five categories, a number of techniques have been adopted and popularized by other art forms throughout the years. Some of these are recognizable by their non-Chinese names, for example: butterfly kick, back handspring, back tuck, layout-stepout, etc. However, most technical terms on the list are exclusive to classical Chinese dance and become lost in translation. Take for example: overlooking-the-sea fanshen, stepping toward the sky, kicking the swallow hard, and swivel rip-split purple-gold-coronet leap. Regardless, dance is impossible to describe using words alone, and you'll really have to see for yourself.
During the competition, contestants execute the necessary quota from each of the five categories in one well-choreographed routine.
What Do Judges See?
Classical Chinese dance training has four components:
•"Form" (身法 shēnfǎ) - poses and movements that comprise the vocabulary of the dance form

•"Bearing" (身韵 shēnyùn) - manner for expressing inner feelings through "form" (same yun as in Shen Yun, but a different shen, meaning "body")

•Dance techniques - high-level dance movements

•Tumbling techniques - a multitude of tumbling and aerial flipping techniques
For competitions, some areas for evaluation include:
•Musicality and artistry

•Compelling character portrayal

•Conformity to "form"

•Clean execution of techniques, stability and control of postures and movements, and smooth transitions

•Dynamics demonstrated in speed, range, and power, varying between fast and slow, strong and gentle

•Flexibility
In classical Chinese dance, standards are rigorous. When put to competition, techniques must astound. However, Chinese culture has always emphasized inner feeling over outside form. So while "bearing" may seem less rigorous, it is a crucial component and takes no less heart to master. Admittedly, elements like feeling, flavor, or flair are so rooted in each individual that they are difficult to quantify. But if a dancer can touch the audience's soul, it's definitely success.
So here lies the challenge: depict the most poignant emotions, intricate personalities, and profound cultural values through accurate dance vocabulary, while observing the unique aesthetics of classical Chinese dance. And in the international spotlight. In three minutes or under.
Any takers?
It's Show Time
This October's international dance competition will debut a score of top new talents in classical Chinese dance, and showcase the intricacies of this ancient art form to the public.
Shen Yun's star dancers have been prepping day and night, and they'll be making a big splash at the finals. It'll going to be a grand show.
Check back soon for photos and more!
NTD Television's 7th International Classical Chinese Dance Competition takes place Oct. 19-21 at the BMCC Tribeca Performing Arts Center in New York City. For tickets and information please visit: //competitions.ntdtv.com/dance.