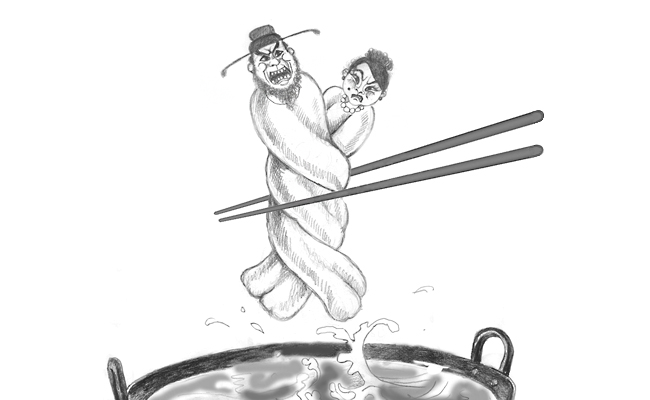 Audioblog: Cleaning Up After the Qins
The backstory of the bad guys in Shen Yun's satirical Sweeping Out the Tyrant
History has it that China's Benedict Arnold was married to a sharp-tongued she-devil. Meet Mr. and Mrs. Qin, the most hated couple of the Song Dynasty. Better known as Qin Hui and his wife Lady Wang, these two villains were notorious for conspiring with foreign invaders against China's greatest general, the lionhearted Yue Fei.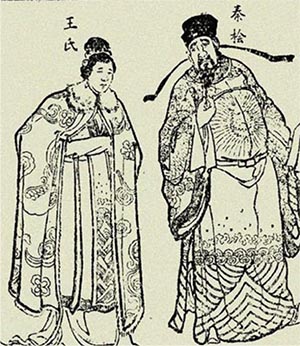 Back in the twelfth century, Mr. Qin (pronounced chin) was a crafty chancellor who invested his brains in cunning. His Machiavellian tactics included weeding out political opponents, kissing up to the emperor, and framing war heroes.
In 1127 C.E., China was invaded by a neighboring tribe called the Jurchen. The Jurchens abducted Mr. Qin, along with other court officials and the emperor. While the other hostages never made it home again, Mr. Qin "miraculously escaped" and returned to the capital unscathed...
But actually, the Jurchens had bribed Mr. Qin with gold and goodies, and only let him go under one condition—that he kill Yue Fei, China's loyal general who never lost a battle. If he were out of the way, there would be no one to stop the Jurchen from taking over all of China, and the emperor would have no choice but to wave the white flag.
So as soon as he got home, Mr. Qin persuaded the emperor to call Yue Fei back from the battlefront. Then, Mr. Qin imprisoned him under false charges of high treason. Even after two months of torture, however, Yue Fei still refused to admit to the accusations. Meanwhile, the public, which adored Yue Fei, was outraged and began petitioning for his release. Would Mr. Qin concede and let him go?
This was when Mrs. Qin entered the picture. The irascible villainess and evil mastermind couldn't wait to get her hands on Yue Fei. Like the Wicked Queen in Snow White, she also used fruit on her victim. Instead of poisoning an apple, she hatched a plan to slip an execution order tucked inside the skin of an orange. Then, the Qins snuck the sinister citrus to the presiding judge, and before long, the great Yue Fei was done for.
With the execution of Yue Fei, the Song dynasty lost its most dedicated warrior and its line of defense collapsed. The Jurchen invaders soon took over, and Mr. and Mrs. Qin got away with their scandal. Or did they?
Who could possibly teach the Qins a lesson and bring their crimes to light?
Enter "Mad Monk Fengbo," the legendary maniac (and full-time janitor) of Lingyin Temple. Like "Crazy Monk Ji Gong," Fengbo has been romanticized in Chinese fiction, and now, he stars as the dopey (but lovable) hero in Shen Yun's 2014 program "Sweeping Out the Tyrant."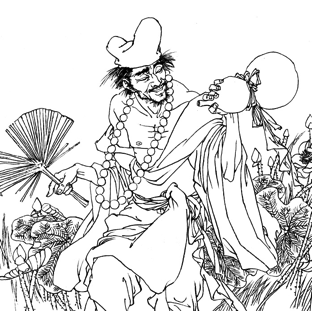 Fengbo was a loony oddball, with "ten imperfections" from head to toe. This pigeon-breasted hunchback had a wonky nose, a wry smile, and a cross-eyed gaze effusing with profound stupidity. Everyday, he would poke fun at others while rambling in riddles. His whacko act, though, was just that—he was actually a wizard, complete with prophetic powers and a magic broomstick.
Okay, now let's rewind a bit: remember our two villains? After secretly murdering Yue Fei, Mr. and Mrs. Qin continued to spend their days splurging and spoiling themselves.
One day, they barged in to Lingyin Temple and demanded to have their fortunes told. The old abbot welcomed them inside, but Fengbo—whose nose detected the stench of evil from miles away—showed no hospitality, and started smacking Mr. Qin with his broomstick. Meanwhile, Lady Wang was busy drawing oracle sticks from a canister and, to her chagrin, they all predicted bad luck.
Pretty quickly temple brouhaha broke out, with Mrs. Qin roaring over her inauspicious fortune, and Mr. Qin trying to demolish the monastery to the protests of the old abbot. But no worries, with crazy Fengbo around. The monk denounced the couple for murder and treason while literally sweeping them out of the temple. And, from then on, their fate took a plunge for the worse.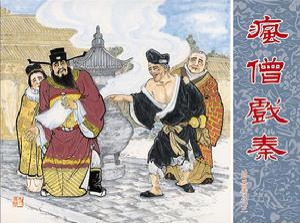 The ancient Chinese believed in karmic retribution: the idea that good is rewarded with good, and evil is punished with evil. As history records it, Mr. Qin was besieged by nightmares, and chewed on his tongue until he bled to death. Mrs. Qin was then haunted by dreams of her husband in hell. It is said that while on her deathbed, her tongue unfurled to be an extra three inches long—representing all the lies she had told.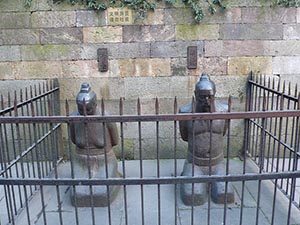 Following their deaths, the couple's exploits were exposed, and from then on, Mr. and Mrs. Qin have been etched into the Chinese blacklist. Chinese people have hated the Qins so much, they've even made voodoo statues and voodoo snacks in their dishonor.
As for Mad Monk Fengbo, he would pop up in market squares and start sweeping at random—even if the place was already squeaky clean—just to be sure that not a single speck of evil was left behind.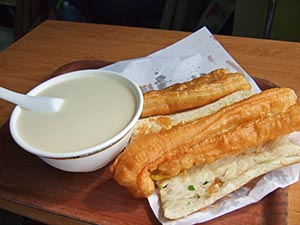 Alison Chen
Contributing writer
April 22, 2014