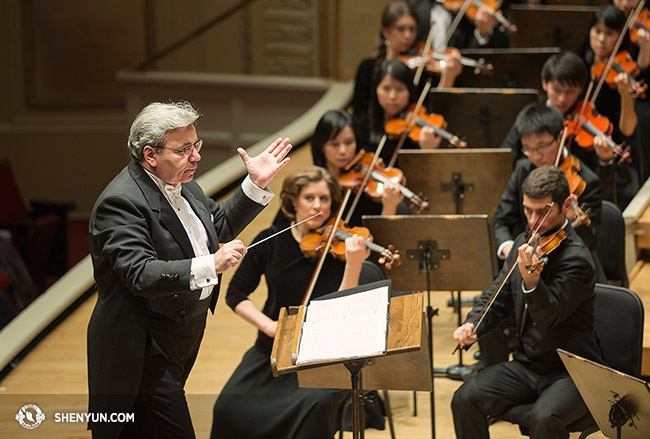 Interview with Conductor Milen Nachev
Conductor Milen Nachev's storied career has taken him from home piano lessons in Bulgaria to mentorship with the most renowned teachers of the day in Russia to the United States and Carnegie Hall. And it is here in New York, with Shen Yun Symphony Orchestra, that he has found a new home, new gratification, and even a sense of destiny.
This fall he will be part of Shen Yun Symphony Orchestra's grandest tour yet, spanning 18 cities, including debuts in Japan and Taiwan, as well as a return to Carnegie Hall and the Kennedy Center. In the middle of the symphony orchestra's busy rehearsal season, we sat down with the conductor for his most revealing interview yet.
Q: Mr. Nachev, could you tell us about your very first encounter with music?
MN: I remember this moment. It was when my grandmother took me to my first piano lesson. And I believe this first encounter with music changed my life completely—forever. I was only 5 years old and deeply in love with my piano teacher. She gave me a lot confidence. So, one year later I was playing a children's album by Béla Bartók and she sent me to a national competition as a pianist, which I won in my age group. And the same year was my first public performance as a pianist. Of course, it was in front of family and friends—but it was a real audience, and the intensity of performance was the same.
Q: When did you then choose to make music a career?
MN: A few years later, at the age of 9, I found incredible pleasure conducting Brahms Symphony Number 4 at home—I was conducting one of those black vinyl records. I conducted by memory, as I had never seen the music score, but the physical contact between the music and the gestures was something that was extremely inspiring for me.
At the music school, I learned piano and choral conducting. And I was extremely lucky to have the best teachers at the time—teachers who not only taught me music, but were life examples for me as musicians and people. One of them, Professor Vasil Arnaudov, probably one of the most famous choir conductors in Bulgaria, was the main reason I kept studying in St. Petersburg Conservatory, because he did everything he could to promote me and send me there.
There I had a chance to study with an incredible man, Professor Ilya Musin—a professor who educated Yuri Temirkanov, Valery Gergiev, and many, many famous conductors. This was a teacher who could not only teach the technique and develop natural feelings about how to communicate with the orchestra through your gestures, but he was capable of teaching many things around the profession of conductor, to develop a complete personality and a complete musician—theoretically and practically. Every day, he gave us lessons about the way we should communicate with the orchestra, how we should rehearse with the orchestra, how to improve the orchestra within a very limited period of time, and to make them believe in their own capabilities. He wasn't only my conducting teacher; he was my second father.
Q: With this background and education, followed by decades of experience conducting different orchestras, what do you think makes for an excellent conductor?
MN: Dealing with the complexity. You need to be not only extremely well prepared musically and theoretically, you also have to be extremely well prepared with the history of music and knowledge about the capacity of every instrument in the orchestra. But the most important thing is that you have to be a psychologist. Our work is not with instruments—we are working with people who are playing instruments. When you realize this major point, the entire attitude changes and your only desire is to get appreciation from the people sitting in front of you and to see in their eyes that your behavior on the podium is a source of inspiration for them, making them eager to give their very, very best on stage. That's the biggest satisfaction a conductor can receive. And working with the Shen Yun orchestra I have incredible moments of that. I can see the inspiration. I can feel it existing in the air around us.
Q: The musicians of Shen Yun practice Falun Dafa meditation and follow the practice's spiritual teachings in their daily lives. How does this relate to the music you are creating and performing?
MN: Being in the environment of spiritual cultivation helps a lot. We are literally living together, studying together, developing ourselves together, we are meditating together—and this creates positive energy all around us. I have no doubt that this positive energy helps a lot when we go on stage.
Q: From reading reviews, it seems that audience members do often comment about how they were surprised by the music's energy.
MN: There is a saying: "Music starts where words end." If I were to compare our Shen Yun orchestra with other orchestras, I would say that in Shen Yun we are not just performing music, playing notes and tunes. We go deep inside the meaning of the music, even past the emotional side—most orchestras go to the emotional side, but we go beyond that—to illustrate the deeper meaning. It's like a secret code inside the musical text that we bring out to the audience. It's not necessary for them to understand the secret code, but the effect and the resonance is there.
And so, in many reviews of our performances, you see people from the audience say they cried but they don't know why. Or they say they feel uplifted, but they don't know why. I would say what most accounts for this is the idea that through meditation and personal development and personal improvement, we are capable of communicating with the audience not only through the surface of the music, but at a deeper layer of inner meaning.
Q: You are working with musicians from around the world. What brings them together?
MN: We have musicians from Australia, Asia, Europe, America—and these are, of course, top-quality instrumentalists and high-level professionals. It's really interesting working with people from countries that have huge musical traditions like Germany, Italy, or Spain, but the power of the music and the spiritual environment brings us together and makes us join our efforts.
The musicians here definitely work better together than in any other orchestra that I have seen. The main reason is that we realize there is a deep meaning behind what we are doing.
I actually feel extremely proud to participate in Shen Yun. For me, personally, the ideas of Falun Dafa corresponded with my point of view on life, and my views as a human being and an artist. And artistically, too, the reason I'm proud is that, in a way, what we are doing with reviving traditional Chinese culture—and this includes the music—is almost like our response to the Cultural Revolution in the 1960s in China. Back then, not only traditional Chinese culture was almost completely destroyed, but also many of my favorite classical Western composers, poets, novelists, painters were destroyed—literally, their works were destroyed. I call this a crime against humanity. The world's multi-century artistic heritage destroyed in just a few short years.
Q: With your education in the classical Western tradition and your Eastern European background, how do you go about interpreting Shen Yun's Chinese themes?
MN: First of all, we know that music is an international language. And second, this is an issue in interpreting all kinds of music—I've had to develop my musical intuition for many, many years working with different styles, with different pieces by different composers from different countries who lived in different centuries. All of that developed my musical intuition.
I also try to become more familiar with the folk side of Chinese music, to understand better the capacity and capability of Chinese instruments like erhu, pipa, suona, etc. And with this universal language, once the door of your consciousness is open, you can easily find the right tempo, the right articulation, and the right phrasing. Of course, I have friends and colleagues working with me—we have many discussions with composers and choreographers—and so I'm learning at the same time that I'm trying to give my knowledge to them. It's a two-way process.
Q: Could you give us an example of how this plays out?
MN: Two days ago we rehearsed a piece for three erhu solos accompanied by the symphony orchestra. During the process, without words, just watching the eyes of the three soloists, I already knew what they needed—what kind of tempo they needed, what kind of support they needed, how we could together develop the phrase—and my feeling was that they also implicitly understood. When I desired to start the phrase from one point and bring the phrase to the arrival point, they were completely with me—without one word between us.
Q: So it's a communication that's far beyond language?
MN: Absolutely. A different level of communication.
Q: What are some of the rewarding moments in that exchange?
MN: There are many moments which I can call rewarding. One of them is what we just talked about, the moment of full, mutual understanding between me and the orchestra. This spiritual exchange and communication between us is something transcendental, beyond words. The appreciation that I see in the eyes of the composers after performing their piece is another satisfactory moment. But, I mostly feel rewarded, and feel gratitude, for the destiny that gives me the opportunity to work with a multinational orchestra and have the chance to share with them my point of view.
Q: What do you think is this sense of destiny?
MN: I think it's this feeling that you find your own place, and when you feel comfortable and appreciated. That's my feeling—that I found my place. Even looking back—of course I had the opportunity to stay in Europe and lead one of the European orchestras, that was not a problem—but I wanted to prove myself in a completely different situation. When I arrived in the United States not so many people knew about me, about my recordings or my previous experience. So I had to start from scratch and had to wait for many years to receive this opportunity. And when I realized that this is not only a professional development but it's in deep harmony with my soul and what I feel about the world, I said: "Wow, you found your place. Now the only thing that's left is to do your job the best possible way."
Q: Is there any piece in particular that you look forward to sharing with the audience this coming concert tour?
MN: For me, every one of the pieces in the program is associated with different kinds of memories, because we performed almost all those pieces with our dance company around the globe. Each piece is particularly close to my heart—and not only because I conducted 119 performances last season. People ask me: "What's your favorite music?" Whatever I'm conducting right now is my favorite music. The music that I'll be conducting next year will be my favorite music then. So this is a very special sort of relationship.
Q: When people come to see Shen Yun Symphony Orchestra, what do you think will strike them most about the music?
MN: I honestly believe that they will be surprised by the sound coming from the stage. The sound will be extremely unique because of the combination of Western and Eastern instruments. We are working so hard to achieve the best possible ensemble, it's really very tough work that we are doing, but our desire is to be known for our ensemble. Also, we are working a lot on the balance of different groups of instruments. We always want to make the melody extremely transparent. At the same time, we want every single detail inside the score to be so clear and articulate that we'll bring a different spectrum of colors behind the melody. So we're working in many dimensions. If you take a look at the conductor's score, not only vertically—like harmony, balance, orchestration—but also horizontally, we are using every single way to make the music more impressive, to create a really serious impact for our audience. We want to give the audience not only emotional pleasure, but the experience of discovering a completely different world behind the music.